I love to laugh!
by Linda Cintron
(Greenville, TX, USA)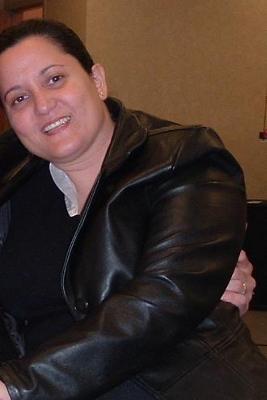 Looking For:
My ideal man would be someone who is a practicing Christian non-denominational preferably, college educated, loyal, family oriented, clean cut presence (no tattoos or body piercing), knows how to balance work and family and devoted during the bad times. I'm looking to develop a long-term relationship when I get to know someone really well. Someone who doesn't play head games is a plus. I need someone who is not so sensitive emotionally. Tired of meeting men who tell me what I want to hear, make and break promises, and aren't ready for something serious. I'm looking for someone who is finished with the bar scene. I've been married before. I have been divorced now for 4 years. We can talk about the details of that later. I don't have any children but I don't mind if you have them. I love children. I have never smoked nor drink anymore.
I live in Greenville, TX which is an hour East of Dallas. I don't let distance bother me. If he is worth the drive, I will do it. I would like to chat on here, yahoo messenger or email to get to know someone before meeting in person. A girl can never be too careful these days.
My Interests:
I am 100% Puerto Rican American, conservative, classy, warm, fun loving and honest person. I love to laugh at comedy type movies. I'm not into sports that much but I don't mind if he is. I do like baseball & basketball though. I don't like football, boxing, or hockey. I think they are too violent. I like plays preferably musicals, the symphony, and museums. I like the arts and would like to share that with someone. I listen to variety types of music: pop, soft rock, R&B, classical, pop country and Latin. It doesn't bother me if we don't have the same music interests. That's not a big deal for me. My favorite food is Mexican, Italian and Japanese. I love sushi. My favorite color is blue. I love James Bond movies. I've seen everyone one of them. My favorite book is "The Interview with the Vampire" by Anne Rice. I love the beach. I like swimming in the ocean or lake, water skiing and playing with the sand.
I want someone who has traveled some in the USA or outside of the country. I've been all over the USA: Caribbean Islands, Puerto Rico, Mexico and Paris, France. I speak both English and Spanish.
Dislikes:
I'm not interested in a cowboy. I have nothing in common with them. I'm interested in a relationship with an African American or someone from India. The cultures are too different. I'm not interested in anyone 50 yrs or older. I'm not interested in someone who does drugs or is alcoholic. Also, I'm not interested in men who are perfectionist. I'm not perfect, I'm human. If you are looking for a skinny woman, that's not me either so don't waste your time responding. ***Photos please** If no photo, don't respond.
Well everything said, these are just guidelines for me. There are exceptions to the rule. You may not have everything on here but if you have most, I will probably give you a chance. So, don't get scared of this profile and send me a message or a flirt so we can chat. Be patient with me, I don't rush into anything.

Click here to read or post comments
Join in and write your own page! It's easy to do. How? Simply click here to return to Rate My Online Dating Profile.